Source Stray cats collector's (je cite sinon Lisa va raler)
Good evening folks,
more fans: today it's Jean Louis's turn, our good fellow from France (top left).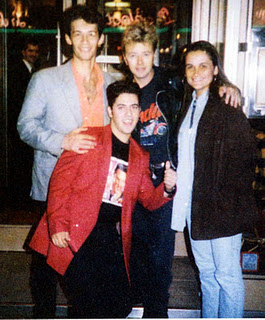 (29 September 1992 - restaurant La Coupule, Paris)
Jean Louis tells us how he got to meet Brian at a Parisien restaurant -see pic above- right after the Stray Cats had played at Le Grand Rex:
"I was with a friend and after the show, we got into our cars and literally, we pursued the car where the Cats where in; they headed for the restaurant La Coupule and we waited at an opposite café. When they stood up ready to leave, we rushed to meet them; it was very comical because I wanted to show Brian my car and the initial plan had failed... we also followed them after this meeting but we lost track of them; I had already been lucky a few days earlier as I had the chance to meet the band at a small radio station near the famous cabaret Moulin Rouge. I got my Grestch guitar signed."
(29 September 1992 - Grand Rex, Paris, France)
This wouldn't be the only time Jean Louis had the pleasure to meet his life-long hero. He had another encounter with him in 1995, when the BSO first toured Europe (briefly, though) at a festival in Amiens (France too).
He continues:
"I found out that the BSO would be playing at the Amiens Festival in France on 25 May 1995. I called a friend and we decided to go. When in Amiens, we discovered that Brian would be giving an interview for FR3 not long before the BSO show. We looked for the TV team through the city and finally, we got a lady who told us everything in detail; the interview was to happen in a few minutes and we had little time to make it to Brian's hotel. We rushed in and asked the receptionist whether the FR3 journalist had arrived; good news, he hadn't!! So we waited until he came and then, we introduced ourselves. After a while talking, he acepted us to go with him to interview Brian.
The TV team started to mount all the stuff, we remain there silently and suddenly, a person informs the journalists that Brian would soon be there. Whoaahhw!! Next, we see a mass of blonde hair coming to us, we wave hello and he shakes hands with our beloved journalist. He is wearing a green bright dress that he also wears at the show, and a black tee, replaced by a white one with the Harley Indian logo printed on.
The interview lasted for about half and hour and some excerpts of it were broadcasted the following day. It all went alright with the typical questions about the Stray Cats, why the BSO, etc. When he is heading off for the concert, my friend and I addressed to him for the tribute and talked with him for an instant. We were on clound nine!! Finally, he leaves and we thank our "new friend" for being so kind to us. I didn't cry, but I was really excited inside."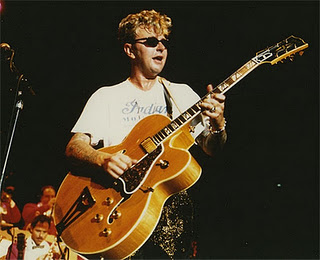 (25 May 1995 - Cirque D'Hiver, Amiens, France)
"At 21.30 we were at the venue to witness the BSO's first ever show in France and in Europe; there would be another French date in 1999, but that's a different story..."